Article by David Freeman
"Beyond Structure" skips all theory and instead offers specific and proven techniques a writer can immediately use to increase the artistry in his or her dialogue, characters, scenes, and plots. This article exemplifies this approach.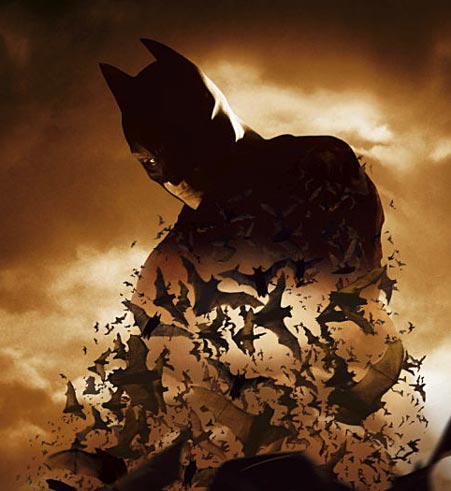 "Batman Begins" — Script by Christopher Nolan and David Goyer, story by David Goyer, Characters by Bob Kane)
"Batman Begins" could have simply been a action-filled summer "popcorn movie" — a film with fun thrills and special effects, but no substance. But is much more than that.
Part of what's admirable about the movie is its use of visual storytelling. I'd like to discuss some of the techniques it uses — specifically, the utilization of 9 different symbols.
Four Notes About Symbols
Before examining the symbols in "Batman Begins," it might be useful to exactly define a "symbol" and how it operates in a film:
1. A symbol isn't something to be intellectually decoded or "figured out." A symbol in a film, when it's operating correctly, carries with it emotional impact.
The way one does this is: intense emotional experiences happen with the symbol in the frame, or perhaps the symbol is being handled or used by one of the main characters in an emotional moment. Eventually the emotions of the scene(s) "rub off" on the symbol. After that, the symbol evokes emotion in the audience.
(A symbol can also be a phrase or even a word, which takes on emotional connotations just the way an object or location can.)
2. Symbols usually work best when not everyone in the audience notices their operation. One guideline is that about 75% of the audience shouldn't consciously notice, and the remaining 25% should. If too many people notice the symbol, it might be too literal or shallow. If no one notices it, it might be too obscure.
Of course, there are many exceptions to this guideline. For instance, the bats in "Batman Begins" are an obvious symbol, but that doesn't hamper their effectiveness.
3. There are many types of symbols. They operate in completely different ways and enhance a script in very different manners.
4. Symbols add a feeling of emotional depth. Some kinds of symbols add depth to a plot, and thus are what I call "Plot Deepening Techniques." They can also add depth to a character, and these are "Character Deepening Techniques." Or they can add depth to a scene, to dialogue, or to a relationship between two characters.
The reason that they add depth is because they add another layer of emotion. That is, you have the emotion of the scene, and the emotion of the symbol — thus, two layers. Wherever you have layers, you have depth.
Symbol 1: Bats
Bats are probably the most obvious symbol in the film. They symbolize Bruce Wayne's (Christian Bale's) relationship to fear.
When the use of a symbol, or a character's relationship to a symbol, parallels his Character Arc (his character growth), I call this a "Symbolic Subplot." It's one of the many types of symbols.
Bruce's relationship to bats is a Symbolic Subplot because we know how Bruce is doing relative to his overcoming his fears by watching his changing relationship to bats.
At a critical juncture, he stands in the cave beneath his house with bats swirling all around him, and is no longer fearful. By the end of the movie, he flies like a bat himself, causing fear in others.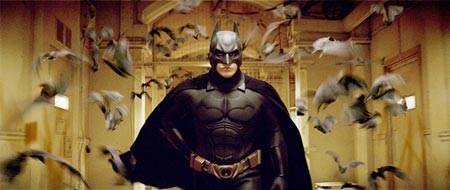 This type of symbol — a Symbolic Subplot — usually falls into the category of what I call "Character Deepening Techniques," for it helps give a character a feeling of emotional depth by echoing that growth in a second layer: an emotionally evocative symbol.
Symbol 2: "Above" and "Below"
The film uses the symbols of "above" and "below". What's above is false — the appearance of a Gotham under control, and the appearance of all being well at Wayne Enterprises.
But the real truth is "below": the "real" Bruce Wayne is who he is (as Batman) in the cave under his house.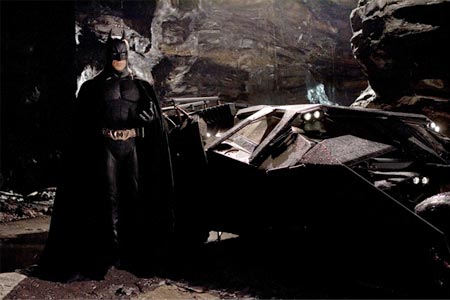 The heart and soul of Wayne Enterprises lies below, in the basement, where Lucius Fox (Morgan Freeman) works.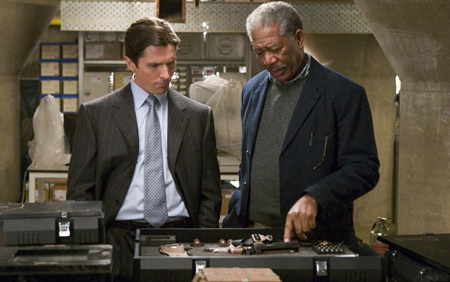 And when Rachel Dawes (Katie Holmes) wants to show Bruce the real truth about Gotham, she drives down a ramp, and suddenly she's in a seedy part of town and (mysteriously) it's the dark of night.
This type of symbol is what I call a "Symbol of A Concept." A Symbol of a Concept is usually a "Plot Deepening Technique," for it usually runs throughout — and gives depth to — a plot.
Here, the concept of "what's superficial is above and what's real is below" runs throughout the plot.
Symbol 3: Masks
Bruce and the psychiatrist, Dr. Jonathan Crane (Cillian Murphy), both have masks. (Crane's mask is the hideous old sack he puts over his head to terrify drugged patients.)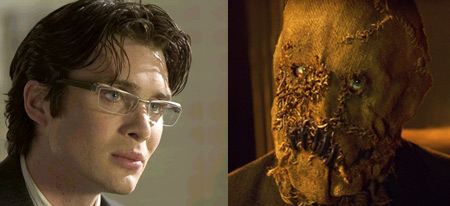 But, flipping a cliché on its head, their masks symbolize their true identities (who they really are inside); their "normal faces" are a disguise.
Rachel even makes a comment to Bruce about this near the end of the film.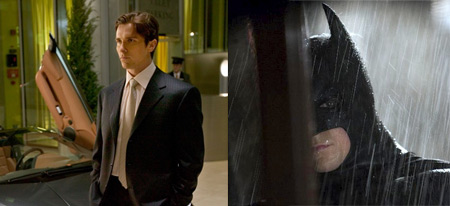 Now here we have something interesting: the masks are a Symbol of a Concept (the concept being "one's true identity") — but, even so, they're not a Plot Deepening Technique, like "Above and Below."
Because they specifically add depth to the characters, here the masks operate as Character Deepening Techniques.
Symbol 4: The Stethoscope
The Stethoscope is another Symbol of a Concept, and in this case, the concept is Bruce's father, Thomas Wayne (Linus Roache).
Thomas is not just a doctor, but a healer of the city (by building an aerial tram to help the poor). And we learn that even his death helped inspire people to heal the city.
Bruce finally comes to accept his father's legacy. That is, instead of a rebel against the superficiality and glitter of the mansion and the Wayne billions, he comes to see what he does — fight crime — is, in fact, a continuation of the healing attitude toward the city that characterized his father.
Bruce eventually takes over Wayne Enterprises, instead of leaving it to others (as he did for most the film). It's not surprising that in the end he finds the stethoscope.
The stethoscope operates as a Plot Deepening Technique in the film. In the passing down of the healer role from father to son, it adds depth to the story, rather than to one individual character.
Symbol 5: The Mansion
The Mansion, as a symbol, is a bit complex. At first, it seems to be another Symbol of a Concept, with the concept being, like the stethoscope, the Wayne legacy.
However, upon closer inspection, what's important about the mansion is Bruce's changing relationship to it (unlike the stethoscope, toward which he doesn't have a changing relationship).
The mansion is another Symbolic Subplot, like the bats. Bruce grows up in the mansion. Later he rejects it, telling Alfred (Michael Cane) it's a "mausoleum."
In fact, when he rejects it, just before entering a life of criminality, the interior spaces and furniture of the mansion are covered in sheets, the way one might cover a dead body (see the picture).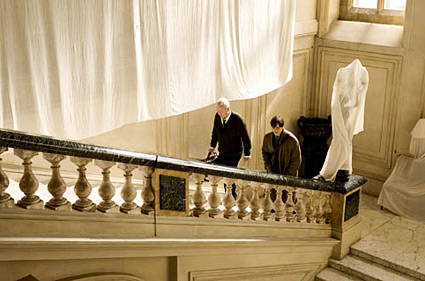 In the end, however, (after the fire) he wants to rebuild it, and make it even stronger than before — especially in the corner above the bat cave. By rebuilding the mansion, but making some changes, this means Bruce has embraced his father's legacy (of being a healer), but he's going to alter this legacy somewhat, to fit his personality.
Thus, Bruce rejecting the mansion — him rejecting what his father stood for (being a benevolent, healing presence in Gotham). Him wanting to rebuild it — him embracing that legacy. (This is also accompanied by his buying back the company his father built.)
As a "Symbolic Subplot," Bruce's relationship with the mansion is another Character Deepening Technique. His changing relationship to the mansion symbolizes an aspect of his internal character growth, just as does his changing relationship to bats.
Symbol 6: The Aerial Tram / Monorail
The tram is, interestingly, a Symbolic Subplot for the city of Gotham. When Gotham is vibrant (when Bruce is young), the tram is in good shape. It's beautiful and uplifting, literally and figuratively.
When Gotham deteriorates into a city of crime and corruption, the now-decrepid aerial tram reflects this decay.
The Other Symbols
For the sake of brevity, I won't go into detail about the remaining three symbols. But in case you're wondering what they are, they're:
Symbol 7:
Batman's shifting clothes throughout the movie. (Remember when he gives a homeless person his coat? Or his ninja clothes?)


Symbol 8:
Batman's relationship to the blue flower and the hallucinogenic substance it causes.


Symbol 9:
The Indian arrowhead Rachel finds when she's a child, and which he takes from her and which leads him (indirectly) to discovering the bat cave. She gives this arrowhead to him when he's an adult, on his birthday.
Perhaps, from this article, you can figure out what kind of symbols these are, and if each operates as a Plot Deepening Technique, a Character Deepening Technique, or a Scene Deepening Technique (i.e. a symbol which adds emotional depth to just one particular scene and no others).
Applying the Techniques in this Article
We've looked at two types of symbols in "Batman Begins" — A Symbol of a Concept, which is usually (but not always) a Plot Deepening Technique, and a Symbolic Subplot, which is usually a Character Deepening Technique. (In "Batman Begins" we even see a Symbolic Subplot — the aerial tram — reveal the changes in Gotham, treating Gotham like a "character.")
When you write your script, is there a big concept that can be symbolized by an object or a location (a Symbol of a Concept)?
Can one of your character's internal changes be reflected / dramatized / exemplified in his/her's relationship to or use of an object or location (a Symbolic Subplot)?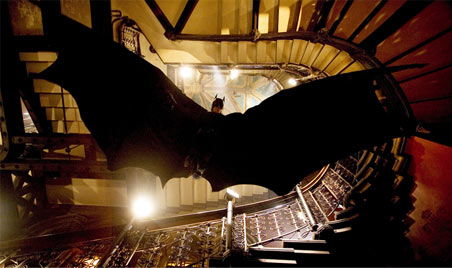 Some Final Thoughts
In this article, I've discussed just two types of symbols: A Symbolic Subplot, and a Symbol of a Concept.
As mentioned earlier, there are many other types of symbols as well.
Symbols are just a tiny part of storytelling. There are well over 1000 techniques which can be used to give uniqueness, dimension, and emotional depth to —
Characters
Dialogue
Relationships between characters
Scenes, and
Plots
The problem for both advanced and beginning writers is that, just like many symbols, almost all of these 1000+ techniques operate outside the conscious awareness of the audience — or of the reader, if you're reading a script.
Distilling these techniques — labeling them — figuring out how to use them
— and them converting them into tools that can be easily and quickly learned by others is the heart and soul of "Beyond Structure."
By learning such techniques, the beginning writer skips years of trial and error. The intermediate writer becomes advanced. The advanced writer expands his or her creative palette to write ever more artfully.
If you'd find it useful to master —
20 Techniques for giving a character emotional depth
14 Techniques for making dialogue sound natural
10 Ways to reveal emotional complexity through dialogue
42 Ways to make a character likeable or unlikeable
25 Techniques to make scenes unforgettable and emotionally layered
32 Ways to link a character's growth to the plot
8 Techniques for brainstorming fresh movie ideas
And tons more —
— All these techniques are waiting for you in "Beyond Structure."
David Freeman
freeman@dfreeman.com
Related posts