Article by David Freeman
"Beyond Structure" skips all theory and instead offers specific and proven techniques a writer can immediately use to increase the artistry in his or her dialogue, characters, scenes, and plots. This article exemplifies this approach.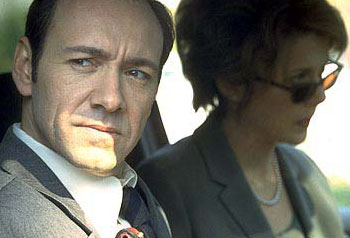 There are about 40 techniques I'm aware of to add emotional depth to a story-line. Here we'll examine one: the use of parallel plot-lines. First we'll look at it's use in "American Beauty," and then "Spiderman 2"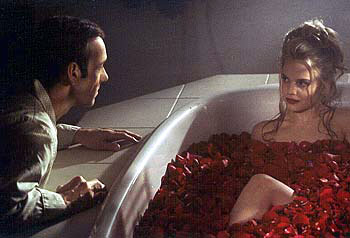 In "American Beauty," screenwriter Alan Ball uses the parallel plot-lines technique twice:
1. Everybody's Got a Secret
One case of parallel plot-lines is that all the major characters hide a secret. They might not hide it from all the other characters, but they at least hide it from one:
Lester Burnham (Kevin Spacey) wants to sleep with teenage Mena Suvari.
His daughter Jane (played by Thora Birch) is hiding the fact that she's been saving her money for breast enlargement surgery.
Carolyn Burnham (Annette Benning) is having an affair with "The Real Estate King" Buddy Kane (Peter Gallagher).
Ricky Fitts (Wes Bentley) hides from his father the fact that he sells drugs.
His father, Col. Frank Fitts, (Chris Cooper), the Marine, hides the fact that he's gay.
Angela Hayes (Mena Suvari) hides the fact that she's a virgin.
There are six major characters, and each hides a secret. This is a clear case of parallel plot lines.
But there's an even more important use of this technique in the script:
2. Parallel Plot-Lines Between Lester and Ricky
(1) Both Lester and Ricky get fired by telling off their bosses.
(2) Both take no responsibility for those around them. Lester is content to let his family fall apart while he pursues Angela (Mena Suvari); Ricky sees nothing wrong with the irresponsibility of selling drugs.
(3) But Lester's story-line echoes Ricky's in a more important way as well. Lester goes on an emotional journey. He starts in apathy, a vacuous wage slave. From this low point, he grows toward freedom and transcendence. His progress is mirrored in the character of youthful Ricky. With his poetic take on life, Ricky seems, at first, to have achieved a kind of transcendence.
However, we soon learn it's mostly a hollow dream. After all, he only videotapes people, avoiding personal contact; he lets his father (Chris Cooper) beat him up, he's fascinated by death and talks about it all the time, and he sells drugs. Are these the actions of someone who has transcended and achieved a kind of enlightenment?
No. Ricky, like Lester, is in apathy. We eventually learn that he got that way after being sent by his father to a mental institution (for being disobedient), where he was put on heavy psych drugs.
Lester gradually becomes more engaged in life, rising up from apathy to anger, embracing an almost teenage kind of rebellion. He gets a job in a fast food joint, (the same job he had as a teenager), buys the hotrod of his teenage dreams, and lusts after a teenage girl. He's become a teen, just like Ricky. And so they smoke dope together and groove on the same music.
At the end, though, he does achieve true transcendence. Caring about someone else for a change, he turns down the chance to sleep with nubile Angela. It's his first step toward responsibility and a transcendent perspective. And from there, before and after his death, he quickly achieves true wisdom. He even speaks some of the same poetic words spoken earlier in the film by Ricky to reinforce the parallel between the two men.
Ricky, by trying to be transcendent at the start of the film, had skipped the all-important middle step of anger. So, at the end, he finally achieves anger and stands up to his father, leaving him forever. While he hasn't yet achieved the real transcendence which he fantasizes about, we feel there's a good chance he'll make it.
The bottom line here is that the two plot-lines roughly mirror each other, and that's a great technique for adding depth to your script. There are other ways to use subplots to great advantage, but that's the subject for another article.
---
Parallel Plot-Lines in "Spiderman 2"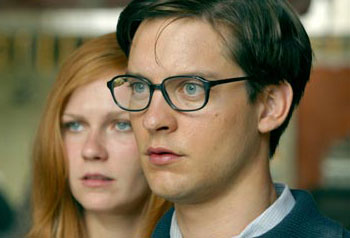 (Full writing credits: Screenplay by Alvin Sargent; Story by Alfred Gough, Miles Millar, Michael Chabon. From the comics by Stan Lee and Steve Ditko. For the record, the writing credits were a matter of difficult arbitration by the Writers Guild, and some of those credited with "Story By" made substantial contributions to the script. And the parallel plot-lines described below actually are rooted in the comics themselves.)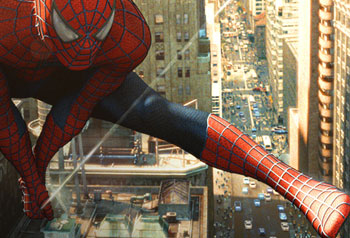 In the beginning of the film, we root for Peter Parker (Tobey Maguire) to be Spiderman — and then Sargent, the screenwriter, actually gets us to almost root for him to STOP being Spiderman. And then he gets us to once again hope Parker will become Spiderman.
This is very complex stuff, especially because this plotline is echoed by that of Mary Jane (MJ) (played by Kirsten Dunst). We root for her to love Parker — and then we make peace with the idea that it's probably a bad idea — and then we start rooting for her to be "irrational" and love him.
So, as with "American Beauty," we see that their plot lines are parallel.
The theme is: "Be yourself." But the complexity in the theme is: what does it mean to be oneself? Does it mean: (1) honor that in yourself which is most fundamental in your being, or does it mean (2) to reject "destiny" and instead exercise your freedom to be whoever you want to be?
In the beginning Sargent and the other writers have us (the audience) believe (1), then (2), and finally (1) again, for both Parker and MJ. (Note that a talented writer could make either of these two alternatives seem noble and good. Parker ends up honoring his responsibilities – but in "While You Were Sleeping," we root for Bill Pullman's character to shirk oppressive responsibilities and strike out on his own.)
Another parallel plot-line between Parker and MJ in the "Spiderman 2" is: To "be oneself" means, in the end, to love. For MJ, it means to love Parker. For Parker, it means to love mankind.
So we've got two parallel plots — which, as I mentioned above, gives emotional depth to a plot. Therefore I label it a "Plot Deepening" technique.
David Freeman
freeman@dfreeman.com
"Beyond Structure" is taught this way — without theory, but with lots of techniques a writer can use immediately to create complex emotional impacts.
Related posts