Article by David Freeman
"Beyond Structure" skips all theory and instead offers specific and proven techniques a writer can immediately use to increase the artistry in his or her dialogue, characters, scenes, and plots. This article exemplifies this approach.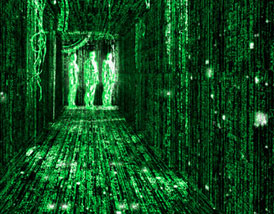 One of the 40 or so ways I know to add emotional depth to a plot is by weaving a theme into a story-line.
The word "theme" is probably one of the most misunderstood words used in screenwriting. In truth, "theme" can mean several things. We won't try to cover every use of "theme" here, but we will focus on one definition: "a subject or question explored from different points of view."
Thus, one way of creating a theme is to (1) introduce a topic or question to be explored; (2) explore it from different angles; and (3) if you wish, come to a conclusion as to what view is the superior one.
The topic can be explored through the eyes of one character, or through the eyes of many.
This short article will explore the theme of "The Matrix" (Part 1).
In "The Matrix," the theme is freedom. The question asked by the writers, Larry and Andy Wachowski, is: "Is freedom possible?" I've read the April 8, 1996 draft of their script, and looked at the film as well. The theme of freedom is explored in both, but presented with more ambivalence and subtlety in the film.
NOTE: This theme is revisited in both the second and third films, but this article will only deal with how the theme was explored in the first film of the trilogy. If you can, you might want to "wind your mind back" to your feelings after first seeing that film.
THE CASE THAT FREEDOM IS IMPOSSIBLE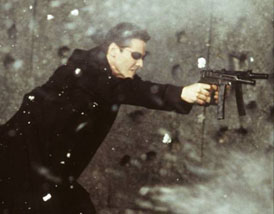 On one hand, an argument is made repeatedly that freedom is impossible. The Matrix, after all, is the vanishment of all freedom. As Morpheus (Laurence Fishburne) says, when recounting to Neo (Keanu Reeves) the history of earth:
MORPHEUS: I came to realize the obviousness of the truth. What is the Matrix? Control.
The Oracle (Gloria Foster), even though working to liberate mankind, actually doesn't believe in freedom. She predicts people's fates, and fate, after all, is the opposite of freedom. Though her dialogue is different in the script than it is in the film, in both she definitively tells Neo that he is not "the One."
Does she really believe this, or is this some trick to make Neo learn who he is? It's left a little ambiguous in the film, for she says,
ORACLE: Being the one is just like being in love. No one can tell you you're in love. You just know it.
Of course, completely contradicting this, the Oracle tells Trinity (Carrie-Anne Moss) that she will fall in love with the One, and Trinity in fact does fall in love with Neo. This prediction coming true is another "proof" that fate is real, and therefore freedom isn't.
So the writers are definitely playing with our heads. And to let us know this, they even have the Oracle tease Neo. She warns him about a vase, and after he knocks it over, she smiles and tells him that he'll be destined to wonder whether he tipped it because he was fated to do so, as she predicted, or if he is a free being but her prediction focused his attention on the accident and thus prompted it.
Well, the Oracle can tease him, but, at the bottom of it all, what does she really believe? Is freedom possible? No. She weighs in against freedom, saying she pities Morpheus for believing Neo is the One. And she comments to Neo,
ORACLE: As soon as you step outside that door, you'll start feeling better. You'll remember you don't believe in any of this fate crap. You're in control of your own life. Remember?
Neo doesn't believe in fate, but the Oracle certainly does. After all, an oracle is someone who makes predictions. By definition, the Oracle believes in fate — i.e. that the future is already written and thus can be predicted.
Continuing the view that freedom is impossible, even Agent Smith (Hugo Weaving, playing the humanoid representative of the Matrix) is himself without freedom. When he 's torturing Morpheus, says:
AGENT SMITH: I hate this place. This zoo. This prison. This reality, whatever you want to call it.
Agent Smith, in controlling humanity, has become trapped himself. In actuality, while Agent Smith's experience doesn't fit squarely into an argument as to whether freedom is or isn't possible, nonetheless his experience helps us explore the subject of freedom from a different point of view.
And, of course, there's Neo's name: when you rearrange the letters, it spells "One."
It seems pretty clear that true freedom is presented as being impossible. In which case, perhaps man is, in many ways, just like the machines he serves in the film. Your car is a machine. How much free will does it have?
Or perhaps not. For the writers also present some very different evidence as to whether freedom is possible.
THE CASE FOR FREEDOM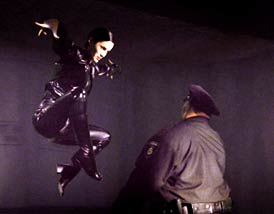 At different places throughout the script, the counter argument is made: that freedom is possible. When Morpheus confronts Neo for the first time, they have this interchange:
MORPHEUS: Do you believe in fate, Neo?
NEO: No.
MORPHEUS: Why not?
NEO: Because I don't like the idea that I'm not in control of my life.
So two views are presented — freedom both is and isn't possible. Which one did Larry and Andy Wachowski want us to believe? They're pretty well balanced out in the film.
The April 8, 1996 draft of the script was a little less ambiguous. In the script, the writers clearly want us to believe freedom is possible. In one scene, Neo speaks to Morpheus:
NEO: Morpheus, I know you won't believe me but the Oracle told me I'm not the One.
MORPHEUS: It doesn't matter if I don't believe you —
His eyes light up.
MORPHEUS: What matters is that you don't believe her.
Another scene in the script, but which didn't appear in the film, reinforces this view. Trinity talks to Neo:
TRINITY: Morpheus is right, you know. It doesn't matter what he believes or even what the Oracle believes. What matters is what you believe.
Of course, these are examples from an earlier draft of the script. And what really matters is the final film, not an early version of the screenplay.
So, did the writers uphold their view in the final film? Yes. For the film ends with a monologue by Neo which isn't in the April 8, 1996 script, but which reiterates the writers' final message, addressed to the intelligence behind the Matrix.
NEO: I know you're out there. I can feel you now. I know that you're afraid. You're afraid of us. You're afraid of change. I don't know the future. I didn't come here to tell you how this going to end.
I came here to tell you how it's going to begin. I'm going to hang up this phone, and I'm going to show these people what you don't want them to see. I'm going to show them a world without you. A world without rules and controls, without borders or boundaries. A world where anything is possible.
SUMMARY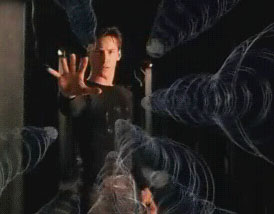 Larry and Andy Wachowski explore freedom from two different points of view. On one hand, we're told that freedom is impossible. Even the Oracle believes this. (By the third film, she has changed this view, due to Neo.
But we're also offered the opposite view, that freedom is truly possible. In the end, it's the latter opinion that the writers uphold. The Oracle didn't recognize Neo as the One because Neo, as a truly free being, chooses to be the One (instead of being fated to be the One), thus he is off her radar. He doesn't fit within her frame of reference, in which true freedom is impossible.
How can you use this concept of a theme in a script? You can pick (1) pick a subject to explore in your script; (2) examine it from different points of view, and, if you wish, (3) have one of the points of view "win out" in the end.
David Freeman
freeman@dfreeman.com
Related posts