Article by David Freeman
"Beyond Structure" skips all theory and instead offers specific and proven techniques a writer can immediately use to increase the artistry in his or her dialogue, characters, scenes, and plots. This article exemplifies this approach.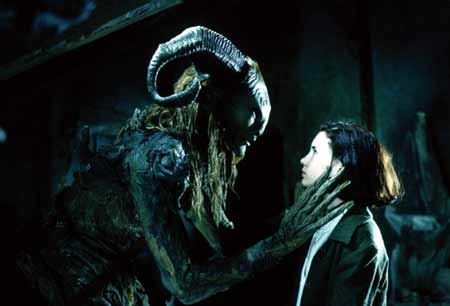 What is a "Theme"?
What exactly is a "theme"? How do you weave one into your script, and why would you want to?
Following the information on "Beyond Structure" below, you'll find an article on themes and how to use them, and discussing the way a them adds emotional richness and power to "Pan's Labyrinth."
By "theme," we mean a subject that's explored in a film. In some cases, the theme is explored through the eyes of the lead character. In "Platoon," Private Chris Taylor (Charlie Sheen) character is forced to explore, or wade through the difficult issues involved with the theme of "Right and Wrong — Morality and Immorality — in War." Sgt. Bob Barnes (Tom Berrenger) pulls him one toward one morality, and Sgt. Elias Grodin (William Defoe) pulls him the in the opposite direction.
Sometimes the theme is explored through a variety of characters. In "Lord of the Rings – The Two Towers" the theme is "Responsibility." The hobbits and Aragorn take on responsibility of trying to stop Sauron. The Ents, on the other hand, say they're not responsible for the coming war; they eventually change their mind. Similarly, the Elves say they're not responsible, but they change their minds.
King Theoden says he's not responsible for the upcoming conflagration, and holds onto this position unit the third film, "Return of the King."
In some films, the writer doesn't just explore an issue, but follows the exploration by conclusion about the issue. This is what was done in done in "The Two Towers" — the conclusion is "Assuming responsibility is the right thing do."
In other films, like "Sideways," the theme (subject) of "Love of self, love of others" is explored in many ways through many characters, with no single decision being drawn other than a very general conclusion that love is a good thing. But the essence of the film is the exploration, not the "message."
The Theme of "Pan's Labyrinth"
(Written by Guillermo del Toro)
We often think of a duality, "Good vs. Evil." But in "Pan's Labyrinth," the theme explored is "Good vs. Evil vs. Innocence."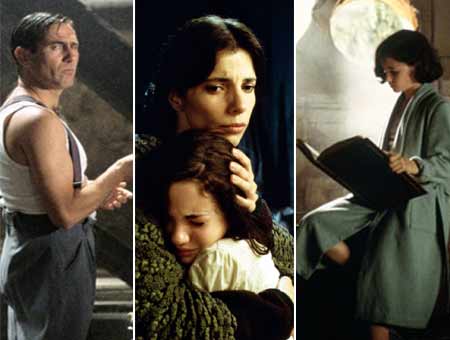 Good vs Evil vs Innocence
Pan (Alex Angulo) tells us a story:
"A long time ago, in the underground realm, where there are no lies or pain, there lived a Princess who dreamed of the human world. She dreamed of blue skies, soft breeze, and sunshine. One day, eluding her keepers, the Princess escaped. Once outside, the brightness blinded her and erased every trace of the past from her memory. She forgot who she was and where she came from. Her body suffered cold, sickness, and pain. Eventually, she died."
There's no ease or innocence in the world 11-year-old Ofelia (Ivana Baquero) finds herself.
At different points in the film, Ofelia journeys into a parallel world — one fraught with dark challenges and danger. Far from being a doorway to innocence, she's forced repeatedly to do courageous, grown-up things — in fact, tasks too frightening for even most grownups.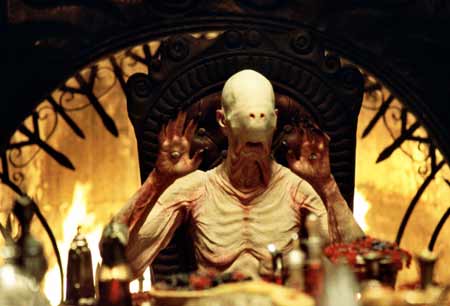 All Ofelia wants is to become a princess in her happy underground world, a place where a girl can avoid the nightmare that the adult world has become. Instead, Ofelia is forced to wrestle with good and evil. She must courageously save her younger brother, first from Pan, and then from the evil Capitan Vida (Sergi López). This act of self-sacrifice first costs her (she believes) her ability to return to her magical kingdom; then it costs her life.
And what's her reward? Her place in the wonderful underground kingdom. She's rewarded with a world of innocence.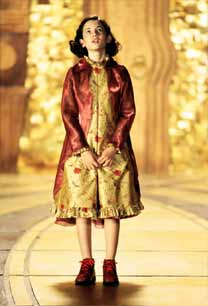 Let me talk about a film with a somewhat similar theme, and then return to "Pan's Labyrinth." The theme of "Return of the King," is love. After the war is over — the struggle of good vs. evil — love returns to the land. Aragorn marries Arwen; both are finally in a position to give and receive love. Aragorn and all his compatriots bow to the hobbits, who finally receive love for all their heroic actions.
When the struggle between good and evil is over (the war with Sauron), it's safe to love again.
But peace never comes the world of "Pan's Labyrinth." And thus the conclusion is made: In a world torn by war, there is no room for innocence — either in this world, or even in the world of fantasy. (After all, the missions Pan sends Ofelia on are hardly innocent.) For Ofelia to get back to the innocent world, she needs to die in this one.
The theme of "Pan's Labyrinth" — the subject explored — is "Good vs. Evil vs. Innocence." The sobering message of the film — the conclusion drawn — is that in a war torn between good and evil, there is not place for innocence. For no one is innocent; you must, like even the seemingly apolitical Mercedes (Maribel Verdú) and the Doctor (Alex Angulo), choose a side. This message is lightened a little by the revelation that innocence is alive somewhere, even if it isn't here.
Even though the ending is very bittersweet, audiences and critics love this film. Although the directing, cinematography, and set design are all stunning, those elements alone wouldn't endear people to a film with a lackluster script.
It's the artful exploration of the theme that makes us leave the theater feeling that we've experienced some profound but difficult to articulate truths about the human condition.
In short, the film touches us deeply. But what does that mean — "deeply"? What is "depth"?
Summary — And a Note on "Depth"
A cut diamond has many facets. When your script has a theme, the different ways the theme is viewed — the different ways it's explored — are like the different facets on the diamond, bouncing around the light inside. The light being bounced around is your theme.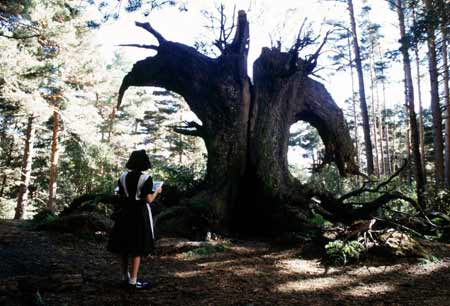 Because the theme is explored in different ways, the theme gives layers to your script, and thus gives your story a sense of depth. Layers always create feeling of depth — whether those layers be in a scene, a plot, a character, or even in a single line of dialogue.
A theme, when artfully presented, gives depth to a plot. Thus it's what I call a "Plot Deepening Technique."
If you find this approach to screenwriting useful — i.e. skipping theory and presenting proven techniques — you'll love "Beyond Structure." Imagine taking the technique presented above and then learning 200 more, including dozens to give depth to scenes and characters, not to mention all the techniques to make dialogue have the sound and emotional layers of spoken speech.
That's "Beyond Structure"
David Freeman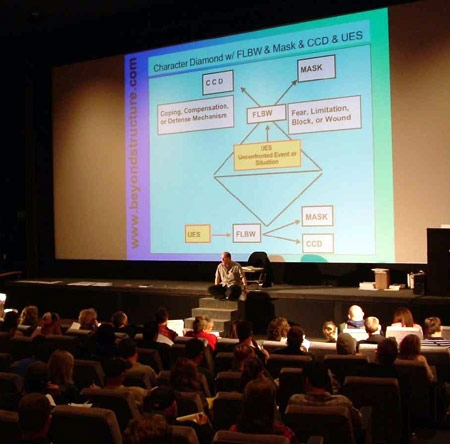 Related posts