Article by David Freeman
"Beyond Structure" skips all theory and instead offers specific and proven techniques a writer can immediately use to increase the artistry in his or her dialogue, characters, scenes, and plots. This article exemplifies this approach.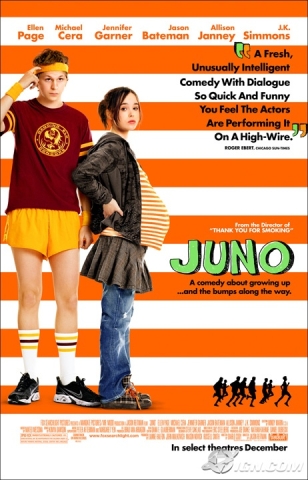 "Juno" – Script by Diablo Cody
One of the signs of a great writer isn't just creating compelling lead characters and villains, but also memorable and engaging secondary (a.k.a. minor) characters.This article discusses six techniques for accomplishing this, focusing primarily on the ways by which it was done in "Juno.""Juno" won the Oscar for best original script for 2007. And Diablo had a multi-picture studio deal inked even before the script was shot, based on the screenplay.She must be doing something right. And she is. A lot.
I won't be focusing here on the script's comedy, which relies on the Gilmore Girls' approach of quirky characters and "keep the funny lines coming and keep 'em coming fast."
Instead, I want to look at something else that Diablo does extremely well: create memorable secondary characters.
This article presents 6 separate techniques for accomplishing this, which can be used by themselves or in combination.
Techniques are Not Rules
I've noticed that as soon as a writer learns a great new technique, the writer sometimes feels the technique needs to be used in every piece of writing he or she creates from that point forward.
Please don't regard these techniques that way. They're nothing but new colors for your writing palette, to be used when they're appropriate.
Technique #1: "Private Drama"
This means: When we meet a minor character, we're immediately introduced to his or her private drama(s).
This makes a character seem more real, for we get a feeling that person has a past, ongoing dramas, and a network of relationships.
This isn't done much in Juno (although it is done in places, as we'll see below). Where I've seen it taken to its greatest height is in the TV series "24." One woman at CTI (the intelligence agency) is, even as we first meet her, angling for a promotion; another one is trying to hide the fact that she was once institutionalized. One man is trying to get back his true love.
And these private dramas are thrust upon us usually in the first scene in which we encounter the characters. It's an A+ technique — which still doesn't mean you need to use it with each minor character. For instance, it's not used with Rollo (Rainn Wilson), a character from "Juno" who we'll examine in the next section.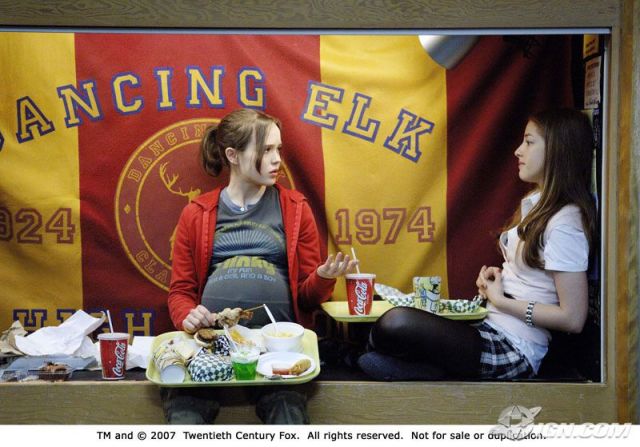 Technique #2: "No Bland or Cliché Dialogue"
One sign of a masterful writer is the lack of cliché characters and cliché dialogue. You'd think that these are the same thing, but not necessarily. There are no cliché characters in "While You Were Sleeping," yet little of the dialogue is particularly memorable, compared with "Juno."
"Juno," however, takes "No Bland or Cliché Dialogue" as an anthem. Here are some lines from the convenience store clerk Rollo who's watched Juno take three pregnancy tests in one day.
I've extracted his lines out of context, presenting them here one after another:
ROLLO: Well, if it isn't MacGuff the Crime Dog! Back for another test?
ROLLO: This is your third test today, Mama Bear. Your eggo is preggo, no doubt about it!
ROLLO: You pay for that pee stick when you're done! Don't think it's yours just because you've marked it with your urine!
That certainly is dialogue which is neither bland nor cliche. In the school lab, we have this sequence:
JUNO: So, who's ready for some photomagnificence?
GIRL LAB PARTNER: I have a menstrual migraine, and I can't look at bright lights today.
GUY LAB PARTNER: Amanda, I told you to go to the infirmary and lie down. You never listen.
GIRL LAB PARTNER: No Josh, I don't take orders. Not from you and not from any man.
Now, if you were an actor, wouldn't you just love to play these parts? Amanda's first line of dialogue, and all of Rollo's, is certainly not cliché.
The above little interchange actually exhibits two techniques, for when we meet Amanda, we're also introduced to her "Private Drama" — her ongoing power struggles with her boyfriend Josh — which is Technique #1.
Because this script is a comedy, the minor characters are funny. But this technique of "No Clich&é Dialogue" would work with serious characters and dialogue just as well.
Technique #3: "No Cliché Characters"
If a cliché character is one who has a combination of familiar traits, to make a character non-cliché, make sure that he or she has, at his or her core, a combination of traits that we aren't used to seeing in combination.
Paulie Bleeker (Michael Cera) has what might be the least colorful (most bland) dialogue in the script, but is anything but a bland or cliché character.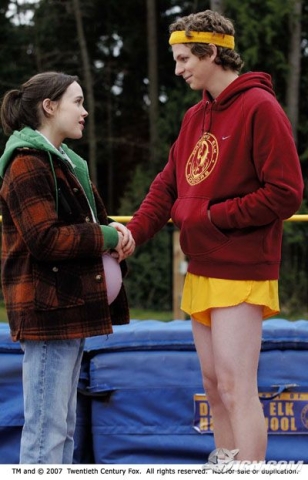 Bleeker is:
Shy
Musical
Athletic
Genuine
Loving
If he was Genuine, Loving, and Shy, that would be cliché. Add Musical, and he's a little more original. Add Athletic, and he's totally original.
But Bleeker's not alone in his uniqueness. None of the characters in the script are clichés.
Technique #4: Characters with "Internally Divergent Attitudes"
Will (Matt Damon) in "Good Will Hunting" would like nothing more than to be invisible. He's got a blue-collar job, and asserts to anyone who'll listen that he's nothing special.
Yet the first time we meet him he's solving incredibly difficult math problems on a blackboard at MIT — and is almost caught when he does it a second time. Obviously, part of him wants to not be noticed — yet part of him craves to be recognized for his talents.
He's got Internally Divergent Attitudes. This technique makes him memorable.
But what works in a major character like Will can also work for a secondary character.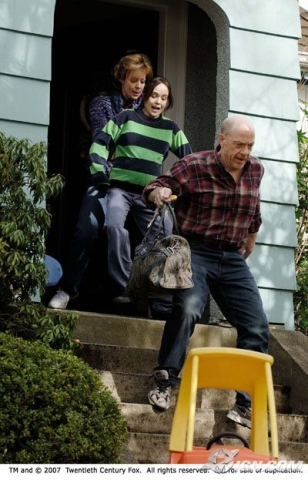 Juno's mother is Bren (Allison Janney); her father is Mac (J.K. Simmons). Of course they're shocked when Juno breaks the news to them that she's pregnant, with her friend Leah standing by to offer support.
Bren's first comment is "Oh, God…" And Mac says "You're pregnant?"
But things are a bit more complex than they simply being shocked. This interchange happens a little later in the scene:
MAC: Who is the kid?
JUNO: The baby? I don't now anything about it yet. I only know it's got fingernails, allegedly.
BREN: Nails? Really?
MAC: No, I mean the father! Who's the father, Juno?
JUNO: Oh. It's, well, it's Paulie Bleeker.
Bren and Mac burst into shocked laughter.
JUNO: What?
MAC: Paulie Bleeker? I didn't now he had it in him!
BREN: (giggling) He just doesn't look, well, virile.
LEAH: I know, right?
Let's focus on Bren here, and her attitude toward Juno's pregnancy. She's:
Shocked, horrified
Curious about the details (the nails)
She finds the situation funny. And she's also —
Knowing and wise, as we see in her last comment to Mac in the scene:
MAC: …And I'm going to punch that Bleeker kid in the wiener the next time I see him.
BREN: Oh Mac, no! He's a sweet kid. You know it wasn't his idea.
Mac shrugs in agreement.
In short, Bren has got quite a variety of attitudes toward Juno's pregnancy. While her Internally Divergent Attitudes might not be as dramatic as Will's, the technique used is the same
People are complex. Often we feel more than one way about something. If you can present this in a minor character, it's yet another way of making that character stand out.
USAGE NOTE: In Will's case, his attitudes are not just divergent, but in conflict. Not so for Bren. So "Internally Conflicting Attitudes" would be a specialized subset of "Internally Divergent Attitudes."
Because conflict has so much energy inherent in it, this is one of the reason's Will's divergent attitudes seem so "dramatic". The second reason is the stakes: he wants to be invisible (unnoticed by others) as a result of the torture he suffered as a kid — yet his only hope for a future free of pain is facing that torture and coming out from hiding. His entire life rests upon this. Nothing this big is at stake for Bren.
Technique #5: Characters who are Neither Good nor Evil
As we get to know Venessa Loring (Jennifer Garner), she's not very appealing. She seems cold, controlling, and there's a buttoned-down lifelessness in her personality, which is reflected in her starkly tidy house.
But later we see other sides of her — how great and loving she is with children, and her pain at wanting a child so badly.
She is, like many people, a mixed bag.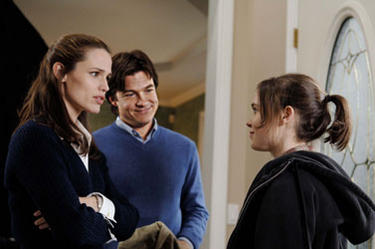 When we first meet her husband, Mark Loring (Jason Bateman), he seems fun, creative, and oppressed by his controlling wife.
But is that the whole story? As the story progresses, and he flirts with Juno. And when he breaks away from Venessa to pursue his dream, is he an admirable free spirit, or a guy who simply will never grow up and take on adult responsibilities?
Like Venessa, he's a mixed bag.
Our inability to easily "peg" these two helps make both of them memorable.
Technique #6: "Idiosyncrasy"
You can give a minor character an idiosyncrasy to help make him or her memorable. It can be big, and/or it can be funny — but it doesn't necessarily have to be either. Some examples:
A housewife who complains about and tells off other drivers as she drives (with her windows rolled up so that they never hear — it's her own private monologue).
A cop who only eats health food.
A junior high school science nerd who shoots perfect free throws on the basketball court in the dusky silence of encroaching evening, when no one is watching.
A little girl with an ugly, scrawny dog — but she loves it.
A business woman with an unusual shade of lipstick, like dark maroon or even black.
A pilot who cracks his knuckles.
Summary: You can use any or all of these 6 very different techniques to ensure your minor characters help grab the attention of actors, producers, and agents.
"Beyond Structure" (NY: April 26-27; LA: May 3-4), is taught this way: no theory, just 200 writing techniques. We launch into them as soon as the class begins, and amply illustrated with film clips.
The techniques cover all aspects of screenwriting — dialogue, characters, scenes, brainstorming…
Would you like to know 9 ways to link a character's emotional growth to the plot? Or 48 ways to make us like (or dislike) a character? Or 28 techniques for making a character unforgettable? You'll get these techniques and many, many more at "Beyond Structure."
Even reading the short, illustrated articles on this website will equip you with lots of new writing tools.
Some of the most important material in "Beyond Structure" involves teaching a wide variety of defense mechanisms a character can use to resist growing emotionally — and showing various ways as to how the plot can assault these defense mechanisms, forcing the character to grow.
SPECIAL ANNOUNCEMENT: "Beyond Structure – Part 2" is an additional day of techniques. This special class was phased out 6 years ago, but is being brought for one time only on the Thursday before "Beyond Structure" in L.A. (May 1), due to demand by former LA-based "Beyond Structure" students.
David Freeman
freeman@dfreeman.com
Related posts