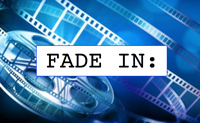 When you submit your script to an agent or production company, you've got one shot.
Your script has got to be perfect.
All writers, even the very best, can get blind to the faults in their own scripts after rewriting them over and over again. Sometimes it takes a very trained and talented outside eye to bring a fresh perspective and solutions.
Other script consultants aren't writers, so of course they can't give you creative solutions to all your script's problems, let alone help you with your dialogue.
If they could write, they would.  But they can't so they don't.  The last thing you need is someone who can't write telling you how to do it.
David won't just spot the weaknesses in your script that can destroy a sale — he'll roll up his sleeves and give you ideas on how to fix them.
There are over thirty critical aspects to a screenplay: dialogue, twists, suspense, structure, and characterizations are a few of these. David will zero in on those areas in your script that are problematic and then brainstorm solutions with you to help repair and improve your script.
David can also work with you if you're at the treatment stage.
For people out of town, the consultations are usually done by Skype.  Whether done this way or in person, David strongly recommends that you record the consultation.
Taping David's verbal notes and ideas offers two distinct advantages over a traditional, written critique:
1) Quite a bit more material can be covered this way. What can be discussed in an hour and a half would take many hours to write up.
Thus you get much much more help for their money. By taping the session you can also review it as often as you like.
2) The brainstorming process allows David to work directly with you to creatively solve your script's problems. Written notes don't permit this collaborative process, with its excellent results, to occur.
David's initial fee to read a script, analyze it, prepare notes, and then spend 2 hours $800. This entire process takes David about 6 hours to complete, from reading your script to preparing his notes through to his consultation with you.
David realizes that $800 is a serious sum for a lot of writers. But everyone who utilizes him always says they've gotten more than their money's worth.
If you choose to utilize David's services on subsequent drafts of the same script, his fee drops to $700.
"I MET DAVID FREEMAN when I took his workshop. Although I've never had a screenplay sold or optioned, Mr. Freeman read one of my scripts. He carefully guided me through three rewrites, and then showed the final draft to several agents. I ended up having a choice of agencies to represent the screenplay (one of them was Creative Artists). The script sold for $200,000 against $400,000 when the film gets made. I feel very lucky to have come across David."
Andrew Harrison
——————————————————————————–
"WHEN I FIRST BROUGHT MY STORY TO DAVID, it was only a pitch. He advised me through several drafts until the screenplay was complete. Then David got involved in selling the script, and he succeeded in getting it put into development at a major studio. David probably has a better understanding of storytelling, with all of its components, than anyone I've run into in this town. Any screenwriter would benefit from working with him."
William Selby
——————————————————————————–
"I ENGAGED DAVID'S CONSULTING SERVICES WHEN I was working on a challenging and complex script for an independent film. David's input was specific and incredibly valuable. He didn't impose his viewpoint; instead, he honored what I wanted to do with the script. His suggestions covered a wide gamut, from ways to increase the characters' motivations, to ideas for keeping the relationships between the characters more unpredictable. He offered suggestions for tying various plot-lines together, as well as specific ways to convey the lead character's hard-won emotional growth. I left the consultation overflowing with ideas and with a crystallized vision of how to take the script to the next level."
Jan Oxenberg
Consulting Producer: Pretty Little Liars"; Co-Executive Producer: "In Plain Sight"; Co-Executive Producer: "Kidnapped": Co-Executive Producer: "Cold Case"; Supervising Producer: "The Education of Max Bickford"; Supervising Producer: "Once and Again"; Co-Producer: "Chicago Hope"
——————————————————————————–
"I BROUGHT DAVID a thriller script which, after placing well in a prominent screenwriting competition, had been damned with faint praise: "This is really good. You could probably get it made in Europe." Obviously, I needed an education on writing in Hollywood. David meticulously worked with me through several drafts, detailing problems with the plot, characters, and structure, and he provided specific solutions–as well as encouragement. To top things off, he was also willing to go out on a limb and show the completed script around, and then get it optioned by one of Hollywood's leading television production companies. He combined creative abilities and a practical knowledge of the industry to help me turn a project with a lot of potential into a marketable script."
Dan Davis