Article by David Freeman
"Beyond Structure" skips all theory and instead offers specific and proven techniques a writer can immediately use to increase the artistry in his or her dialogue, characters, scenes, and plots. This article exemplifies this approach.
Even if you haven't seen the movie "Alexander," you'll still be able to easily follow this article.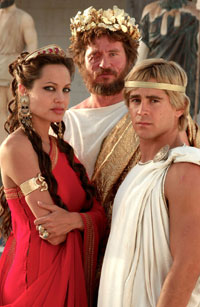 This article is different than anything I've ever published before.
Instead of analyzing a film and pointing out some of the hidden writing techniques used, this time I'm going to take the opposite tack, and talk about some writing techniques that could or should have been used in the movie "Alexander."
Due to space limitations, I'm going to focus on just one scene.
It would only be natural to ask what gives me the right to suggest changes in this or any film. Besides teaching "Beyond Structure," I've also sold or optioned scripts and stories I've written or developed to Sony, Paramount, MGM, Castle Rock, Hearst Entertainment, and others, and have a pair of unannounced epic fantasy films being shot this summer. Though I'm best known for "Beyond Structure," in truth I make the vast majority of my income as a writer.
The Original Scene
The scene I'm going to discuss is one where the young Alexander tames and rides the wild horse.
The horse bucks and rears, scaring off his dad, but then Alexander (about 12 years old) walks up, talks softly to it, gets on it's back, and gallops off as everyone cheers. Then he gallops back and everyone cheers. His dad lifts him up on his shoulders and everyone cheers again. End of scene.
It's predictable and it's a cliché.
Rewriting the Scene
How could this scene have been written to be more interesting and more emotionally impactful?
Here's an alternative way the scene could have unfolded:
No one else can tame the horse (as in the film).
Young Alexander (about twelve) approaches the horse and talks softly to it, and tames it (as in the film).
Then the horse KICKS Alexander and he goes flying 15 feet. We think he's dead.
He pulls himself up, wearily, his stomach in pain. He's crying. His dad is conflicted — worried about his son, but disgusted with his tears.
He goes to retrieve Alexander, but Alexander pushes him away, angering his father. Alexander wipes his tears, hobbles back to the horse.
Again he talks softly to it — and it calms down and becomes friendly.
Then he leaps and KICKS the side of the horse.
The horse rears and tries to crush Alexander twice, but Alexander is fearless and dodges both times. The crowd gasps in terror.
Alexander runs and leaps onto the horse, which starts bucking and galloping. Alexander holds on for dear life and laughs. The crowd doesn't cheer (as they do in the film now) — instead everyone's worried for the boy's life.
The horse gallops out of sight.
In the distance we see the silhouette of the horse rear and we hear it's war cry. We can't tell if Alexander is still on the horse or if he's been thrown long ago.
The horse gallops back toward the crowd, with young Alexander still on. The crowd cheers (as they do in the film).
The crowd stops cheering when the horse doesn't slow down — a half-dozen people are about to get mowed down. They SCREAM.
Alexander smiles as he guides the horse to jump right over their heads.
Only then does Alexander bring the horse to a stop. He gets off. Everyone is stunned, recovering.
Showing no emotion, with total nonchalance, he says to his dad, "Maybe we should keep him."
He walks off, indifferent (or is he just feigning?), leaving the crowd silenced and awed.
His dad rushes after him, scoops him up onto his shoulders, and only now does Alexander smile in triumph as the crowd roars, going nuts. (He had been feigning his indifference — he's a hot dog and he knows it.)
Analysis of the Rewritten Scene
This would be the definitive moment where we sense Alexander's destiny.
The first thing I did is give more facets or traits to his personality.
In the scene in the existing film, we only have:
Brave/Proud
Has a rapport with animals (or at least with horses)
In the rewritten version, he's:
Brave/Cocky/Proud/A showman
Vulnerable and not ashamed to show it.
Cruel/Sadistic, but only when appropriate (i.e. when he's been wrongly attacked first)
Has a rapport with animals (or at least with horses)
Totally unpredictable (This may just be another aspect of (1) — we'd have to see if there are times he's unpredictable when he's not also being a showman — such as in how he conducts a battle.)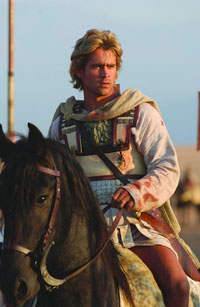 Not only did I add additional traits, but I made sure that the combination of traits were more interesting — i.e. unexpected, fresh, and not a cliché.
The next thing was to add more complexity the relationship between Alexander's father and Alexander. In the rewritten version, his father is, at different times, worried, ashamed, angry, and proud of his son. Thus his father covers a lot of emotional territory.
This is actually two techniques in one. When a character goes through many emotional changes in quick succession within a scene, I call that "Emotional Pathway Type 1". (I won't discuss Type 2 here, as it's not used.) Emotional Pathway Type 1 is one of about 50 techniques I know of that one can add a feeling of emotional depth to a scene. I call such techniques "Scene Deepening Techniques."
So, we have the Scene Deepening Technique here of Emotional Pathway Type 1. But, the father also has many layers of feelings toward his son, as discussed above. This is what I call a Relationship Deepening Technique.
When (and just after) Alexander kicks the horse, the audience will probably feel several emotions simultaneously – (1) a feeling of horror – how could someone kick a horse? (2) a feeling that the act was justified, (3) worry – what will the horse now do to Alexander? — and (4) a feeling of admiration for Alexander, for, after all, his strategy works.
Creating so many divergent emotions in the audience simultaneously is another Scene Deepening Technique. (By the way, both the films "Sideways" and "American Beauty" do this repeatedly.)
Alexander's bravery makes us like him. This is called a Rooting Interest Technique.
When Alexander covers up his pride in the end and pretends to be nonchalant, that act of covering up one emotion with another is one of many of what I call Character Deepening Techniques.
And, of course, one of the most prominent components of the rewritten scene is the introduction of many suspenseful and unpredictable twists and turns, which are all but nonexistent in the original version.
On Cliché
As I often say when I teach, sometimes it's helpful to "Find the cliché and then throw it away."
That is, first figure out the cliché way to write a scene — then you know what NOT to do. You'd be hard-pressed to find clichés in "Aviator," in "Jerry Maguire," in "Shrek" or "Shrek 2," in "American Beauty," in "Sideways," or in "The Incredibles." In fact, both "The Incredibles" and "Shrek 2" poke fun at many film clichés.
The way I overcome clichés is by drawing upon a wide variety of techniques to make characters, dialogue, scenes, relationships, and plots both interesting and emotionally rich.
David Freeman
freeman@dfreeman.com
Related posts