Article by David Freeman
"Beyond Structure" skips all theory and instead offers specific and proven techniques a writer can immediately use to increase the artistry in his or her dialogue, characters, scenes, and plots. This article exemplifies this approach.
(Written by Alfonso Cuaron & Timothy J. Sexton, and David Arata and Mark Fergus & Hawk Ostby, based on the novel by P.D. James)
"Children of Men" was certainly one of 2006's most striking films.
There's much to praise: the unique story, the moody directing, the convincing world the film creates, some utterly unforgettable scenes (like when the baby is finally revealed and the prisoners and soldiers alike respond to the miracle), and the way the film taps into the zeitgeist of the times.
It stands up well against "12 Monkeys," a film that in some way it recalls.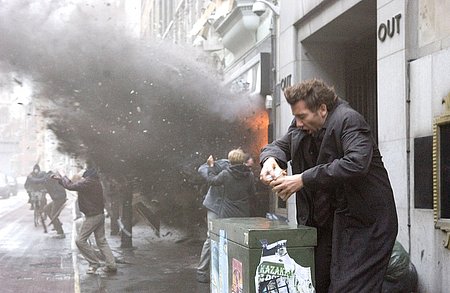 And yet…for all those people I know who were passionate about the film, there were just as many who felt a bit distant from the story, even though I found that most of them couldn't quite put their finger on what caused that emotional separation.
After all, the film seems to have all the right stuff: Theo (Clive Owen), who's an unlikely, resistant hero pulled to surpass himself; unpredictable plot twists; increasing jeopardy as the story goes on; and a great character arc for Theo, as he's reborn emotionally even as he's dying physically.
In fact, the story does a nice job of revisiting a plot from a great film from the past: "Casablanca." In that film, as here, we have a man (Rick, played by Humphrey Bogart) who was once an activist, and who abandoned his cause and started looking out for himself once the woman of his dreams left him — only to get reenergized into becoming an activist once that woman returns into his life.
That plot-line worked in "Casablanca," and it works here.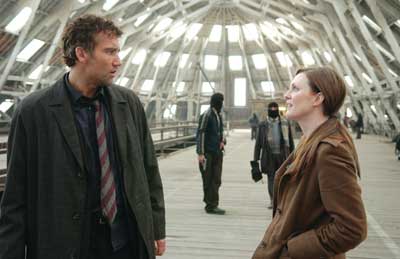 So the question is: with so many things done well, why didn't "Children of Men" quite click with some audiences, even with audiences which wouldn't mind the bleak world the film presents?
I believe that there are a number of reasons, but the biggest one is that the cause should have been more than symbolic. If we thought that the DNA from pregnant Kee (Claire-Hope Ashitey) could be used as a vaccine and/or antidote to whatever is causing worldwide sterility, then she truly would be the hope of the world. There's just the smallest hint of that — for isn't The Human Project a group of doctors trying to find a cure, and isn't that why they want the girl?
If so, why keep this info buried? Why not bring it out front?
Since it's not clear that saving Kee will offer any hope for mankind, Theo's motive becomes more like that of his brother, who conserves art for no reason other than it feels like the right thing to do — and doing what feels right, even if it's useless, becomes a way of affirming life, at least to oneself.
This, then becomes the metaphor of Theo's efforts — he's doing what feels right, but more as a way of affirming the feeling of meaning instead of actually doing something meaningful. And ditto for all those who die protecting Kee. They're doing it because Kee inspires them, and they want to preserve that inspiration and give a good life to her baby because even the thought of a baby inspires them.
But would person after person die for this cause? I don't think so, and I think this is where the film lost some audiences. It's hard to identify with Theo if we don't identify with the choices he's making. Theo risks his life for a symbol.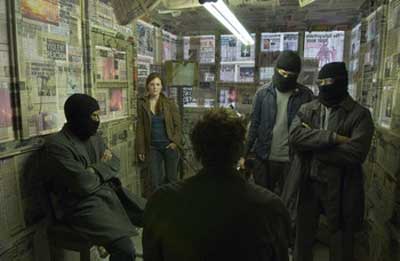 If Kee offered tangible hope for humanity, and Theo saw that he might die but do so in the service of the world's future, then it would have been a more emotional film, and even more successful commercially.
With 7 screenwriters on this film, it's safe to bet that this decision was debated hotly. Why didn't the filmmakers go for the above solution? I can only guess is that they wanted to be a bit more mysterious. Does Kee's DNA offer hope? Or is she just a symbol?
Mystery can work well in a film sometimes. Witness the end of "Crouching Tiger Hidden Dragon," where Jen (Zhang Ziyi) jumps off a mountain in order to make a wish come true. We're told she doesn't die, but also that she won't be coming back. Each audience member is left to wonder — What did she wish for? What happened to her?
Why did mystery work well there, but not here?
It's because the mystery here stands in the way with our being able to fully relate to Theo's choices, thus breaking audience empathy. Breaking audience empathy with your lead character is something a writer should think long and hard about doing before taking the plunge.
Which is not, of course, to say it can't be done. Take "Erin Brockovich." At one point Erin (Julia Roberts) seems so heroic that Susanna Grant, the writer, begins to give Erin flaws (like treating the chemical victims more lovingly than she treats her boyfriend and children) in order to stop Erin from seeming super-human.
Or take "Pulp Fiction," which breaks every rule of screenwriting and yet shines like a diamond.
One thing that newer writers sometimes do is what I call "blanding the lead character." That is, because they're concerned that audiences won't identify with the lead character if that character is too colorful, they make him or her bland.
And yet Erin Brockovich is anything but bland. Hans Solo is anything but bland. Billy, in "Billy Elliot," is anything but bland.
And we identify with each of them.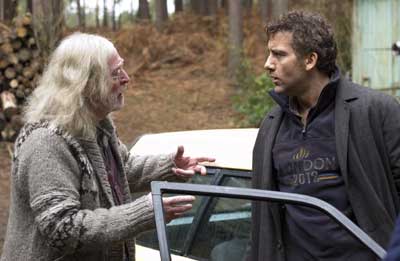 The way around a bland character is demonstrated admirably in "Children of Men" in the character of Jasper (Michael Caine). He's got a non-cliché combination of traits:
1. He goes his own way in life and follows no one. He says what's on his mind.
2. He's a hippie — evidenced in his appearance, he smokes pot, and his favorite singer is Dylan.
3. He's a friend whose loyalty can't be shaken, both to Janice, his wife, and to Theo.
4. He's very heroic, and even dies heroically.
In this film we love Jasper immediately, from when we first meet him. I dare say that we like him even more than we like Theo.
Why?
The secret to having a colorful character who engages our empathy is "Rooting Interest Techniques." These are techniques which make us "root for" — or more exactly, empathize with a character.
No matter how colorful your character is, you can still get audiences to identify with him or her with he skillful use of Rooting Interest Techniques — as long as you're not too obvious in their implementation.
Theo's character, while not very colorful, still had plenty of Rooting Interest Techniques going for him — all his heroism, all his ingenuity, and all his selflessness.
However, if Rooting Interest = empathy, we can then see that having Theo risk his and many other people's lives for a girl who offers no hope for mankind is a questionable choice, as least as it's presented in the film. That diminished his Rooting Interest to the point where I believe some members of the audience didn't feel emotionally connected to the film.
The way to get an audience emotionally connected to a film is to:
1. Have the audience empathize with one or more characters.
2. Have that character, or those characters, undergo emotional experiences. The audience will then feel very emotionally participatory.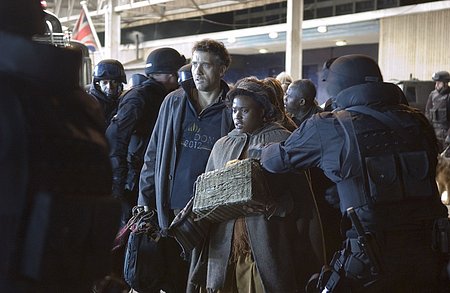 Final Thoughts
"Children of Men" does so many things right that I feel a little guilty pointing out this area where it needed more tweaking. And yet that one area was enough to dampen the enthusiasm of many who came in waiting to be wowed.
And it's worth remembering that the above flaw didn't seem like one to the many who fell absolutely in love with the film.
There are over 40 Rooting Interest Techniques you'll learn in "Beyond Structure." Imagine how useful those techniques would be in your hands, for you could make an audience empathize with your characters, no matter how colorful your characters are.
Those Rooting Interest techniques comprise 1 of the 7 levels of characterization.
A character is like a sandwich comprised of layers, and there are techniques for each layer. One layer involves techniques to make a character unique and fascinating. Another layer involves techniques to give a character emotional depth, including all sorts of defense mechanisms a character might use to resist growing. Another layer involves Rooting Interest Techniques, or the lack thereof. And there are 4 more layers.
In "Beyond Structure," you'll master these techniques and be able to create unforgettable characters every time, characters which really work their way into the souls of your audience.
There are also techniques to create emotionally rich scenes, and even techniques to make dialogue capture the feeling of actual spoken speech. All in all, by the time you're done, you'll have over 200 new techniques at your command to enhance your plots, scenes, characters, and dialogue.
You'll find many techniques exemplified in the other articles on this website — but they hardly begin to describe the rocket ride that is "Beyond Structure"
If you find this approach to screenwriting useful — i.e. skipping theory and presenting proven techniques — you'll love "Beyond Structure." Imagine taking the technique presented above and then learning 200 more, including dozens to give depth to scenes and characters, not to mention all the techniques to make dialogue have the sound and emotional layers of spoken speech.
David Freeman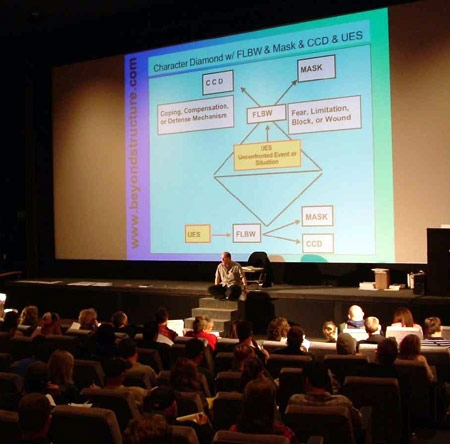 Related posts