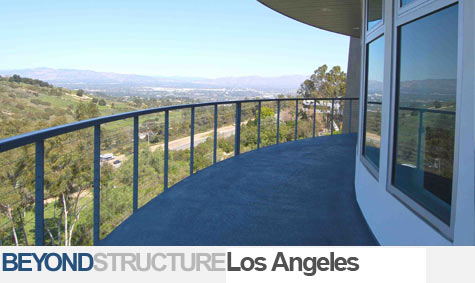 David will teach "Beyond Structure" in Los Angeles


on Sat.-Sun., June 14-15, 2014

Time: 9:30am-7:30pm
Location: We've moved to a larger (and better) venue: The ballroom of the:
The Hilton – Woodland Hills
6360 Canoga Avenue  I  Woodland Hills  CA  91367 / Phone: (818) 595-1000
Map: Click To View Map
"Beyond Structure" Information: (310) 394-0361
For an overview of "Beyond Structure" click here.
(The 200 techniques you'll learn in "Beyond Structure" can't be found in any other course nor book. If you are unfamiliar with David's technique-based approach to teaching screenwriting, you might enjoy reading some of David's articles on this website. These techniques are equally effective for enhancing the artistry of novelists and playwrights.)
Workshop Fee:
$395
If you're flying in, there is a $100 discount, for a total of $295. This offer can't be combined with any other discounts.
If you've taken "Beyond Structure" before — you get half off the full price which would be: $195
Sign-up for the Los Angeles "Beyond Structure" workshop here
Coming from out of town? Here's where you can stay
For those of you coming from out of town, the location of the workshop is about 40 minutes from the airport.
As for lodging, we've arranged for three economical solutions
1. The Conference Center is adjoined to the Jewish American University. From them, you can rent a dorm room for $85 per night. It is carpeted, is slightly larger than the average dorm room, and has its own bathroom. It's got a twin bed, and comes with sheets, blankets, and a pillow.
2. Or you can rent an apartment for $120 per night. Each one has its own kitchen. Only a few such apartments are available.
The Conference Center only wants us to buy rooms as a block. Therefore, everyone who wants to rent either a room or an apartment for a few days should contact David.
He'll tell you how to pay him, and he, in turn, will pay for all the rooms at the same time.
You can reach him at:
beyondstructure@gmail.com
or
davidfreeman11@gmail.com
or
(310) 394-0361
3. The last option is a hotel about 10 minutes from the venue (assuming no traffic). It's the Sherman Oaks Courtyard Marriot Hotel.
Their room rates vary day by day.  Please contact them to learn their prices, and also check those prices against www.travago.com
15433 Ventura Boulevard
Sherman Oaks, CA 91403
(818) 981-5400
Google map
David says he's gotten great car rental deals at various cities by using this website: AtlasChoice.com
You might want to check out that site and see if their rates aren't better than others.
Staying on campus is extremely convenient. However, because the school's students are gone during summer, the cafeteria which would normally be open for breakfast and dinner will not be open.
Food can be found about a 10 to 15 minute drive from the campus, by just going down the hill on the 405 freeway (going North, away from the airport) into "the valley," getting off at Ventura Blvd, and heading East. You'll encounter many restaurants.
If you rent one of the apartments on campus, they come with a kitchen.
Other hotels
The Conference Center at Jewish American University is exactly halfway between Brentwood (part of West Los Angeles) and what L.A. people call "The Valley."
There are a number of hotels on the Brentwood side of the hill which are just as close to the venue as is the Courtyard Marriot in Sherman Oaks. We have not investigated the prices of these hotels, but they are likely to be pricier than the Marriot.
This Google Maps Link shows you various hotel options in Brentwood. Please note that the Holiday Inn and the Angelino Hotel are in fact the same hotel.
Remember a great way to learn about any hotel, before booking, is to look it up on TripAdvisor.com
Questions
Click here for the FAQ – Frequently Asked Questions section. There you will find the answers to many of your questions.
If you have any questions not answered in the FAQ Section, email David at beyondstructure@gmail.com, or davidfreeman11@gmail.com
You can also call David at +1 (310) 394-0361.